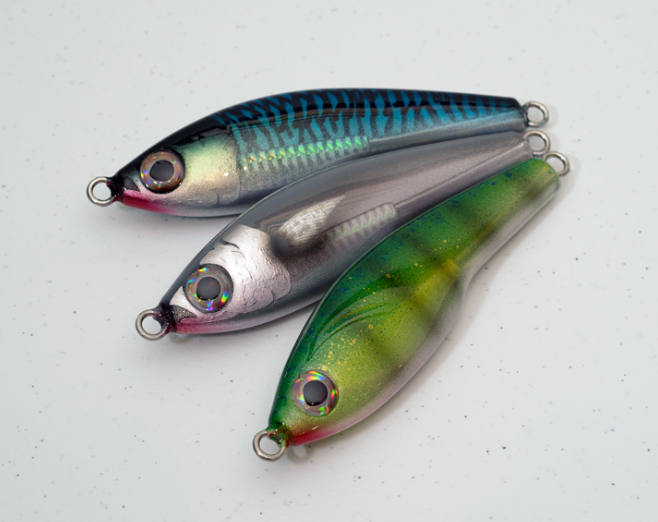 Strategic Angler | Proteus 100
The Proteus series is the latest offering by StrategicAngler® for 2021.  The remarkable success of the clear bodied, UV enhanced Naia series led to the final development of the Proteus series to date, conceptualized many years before.
This lure was aptly named Proteus since the design came about while fishing in 2015 with Capt Glyn Austin of Going Coastal charters out of Sebastian, Florida.   During a testing trip, we arrived in an area filled with life but our targets were widely dispersed.   Casting to our quarry proved difficult so I tied on the smallest and heaviest lure I made,  a 5 inch Mikros-sink.  I was able to cast the compact Mikros with enough force to reach the trajectory required to land several fish, but could have used a much heavier version for distance.   That day, I hooked and landed a very special Dorado with the most spectacular of colors I've ever seen.  This personal experience, now frozen in time by San Diego artist Brian Hebets can be seen and obtained here:  as a one time commemorative and collaborative 10 year anniversary piece of 111 sets.  No more prints/matched numbered and signed pieces will be made.
Getting home that day, I drilled and added weighted slugs to the 5″ Mikros and tested them out in a pond.  In an attempt to enhance the body shape, I found myself grinding away perfect lures for hours, then days, into weeks then months.  I made over 20 variations of this new concept that year, all to no avail.   I wanted a compact, 3 plus oz lure that swam as good as it cast but did not want a metal jig.  The conceptual lure got benched after its many forms because it had to be perfect.  Most of the designs failed during wet testing so I moved on to other projects the next year.
I released the Naia series in late 2019 for 2020.  The development of the Naia series in 2019 provided a key design element for PROTEUS.  After changing and morphing the Mikros-concept design several times over, I was able to take a key design concept from the Naia series and apply it to several benched prototypes.  This newfound knowledge enabled me to create a brand new 5 inch hybrid lure featuring the characteristics of a "slow" stickbait and a sinking, wobbling jig.  (The Proteus series received its final inspiration from the slow swimming Atlantic butterfish, a favorite staple of many pelagic species)
After many morphs, the PROTEUS series is finally born.
---
Related products